The "Seedy" Side of SWHS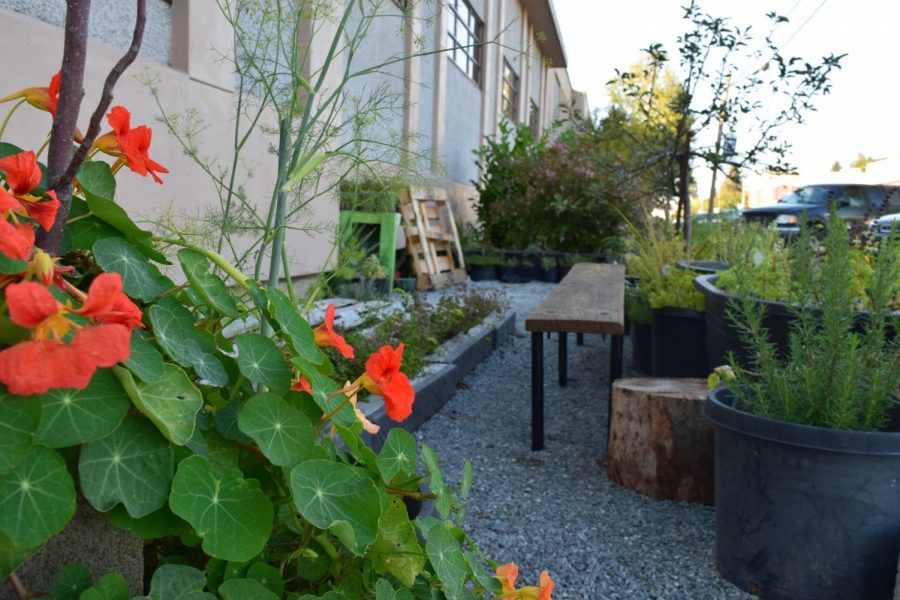 Culinary Arts teacher, Karin Ovenell-Carter, is known by her students as someone who loves to take on tasks. Ovenell-Carter teaches three different levels of food production, is an advisor for FCCLA, a board member for The National Honors Society, and now she is leading the mission to create the Full Circle Food Experience.
  "Sharing is caring, baby. We just have so much more traffic here with families," said Ovenell-Carter. "I want them to be able to see that we have kids doing great things."
  In the Spring of 2017, Ovenell-Carter applied for a grant from the Sedro-Woolley Alumni & Schools Foundation with the hopes of jumpstarting her idea. Once the necessary funding had been received in March 2018, construction began on the herb garden that is now located outside of the C-building. It has since been used by Child Psychology teacher, Rogene Seidel's  preschoolers as an extension of their classroom, allowing for an outside learning environment with 100 percent edible plants.
  The project did not stop there.
  In addition to the preschool program, Ovenell-Carter wanted to include the Life Skills program in her 'farm to table' produce plan.
  "We are really excited that it is now in progress and the support and time and place is all working and that we'll be able to garden during the school year," said Life Skills teacher, Amy Lanning.
  Developments for a greenhouse outside of the Life Skills classroom are underway. The greenhouse would be completely accessible, allowing students with mobility issues to be a part of the process.
  Also underway are the raised garden beds and herb tables on the south side of the building. With the help of the landscaping and horticulture students, the gravel should be spread and compacted by the end of September and the tables completed by the end of October. As many aspects of the plan as possible will be constructed out of recycled material.
  With the help of Sedro-Woolley High School woodshop teacher, Mike Stewart, and his students, Ovenell-Carter has a stockpile of wood at her disposal.
  "Some of the stuff that we have left over from our construction class when we build our storage sheds, if it's usable, we'll keep using it, but if it's not usable, rather than just throwing it away, they're able to use it for their recycling project," said Stewart. The planters will follow suit and be accessible to everyone and grow only edible plants.
  Space is limited for the greenhouse and the area needed behind the C-building has yet to be cleared. In the meantime, Dan Caldwell has been reusing old materials to build a garden shed. This concept of reduce, reuse, and recycle shows Caldwell's geometry in construction students that just because material is old and worn, does not mean that it can't be turned into something functional.    
  "One of the big things that we had in there -and was our big purchase with the ED foundation was a handicap access potting bench that I designed and had custom built for us. So, that'll be be in the potting sheds so that any kid can use it," said Ovenell-Carter.
   FCCLA, SPED, horticulture, landscaping, welding, and various other student club members and teachers have been coming together to support the plan. The Full Circle Food Experience branches out much farther than just the food production program. Lessons for the preschool students are being planned that will integrate herbs and plants.
  A side branch of the project will include Vermiculture, which is essentially the breaking down of food via worms.
  "I've got three boxes set up to do worms, but the problem with the boxes is they're wood, so maintenance…they need to be repaired and they also need to be painted," said Ovenell-Carter.    
  Other composting bins have been donated to help with the endeavor. Ovenell-Carter hopes to acquire a crank-style compost bin to allow students with limited mobility a chance to help compost. "We can recycle the food waste, compost it, and it can go back into the gardens. I want kids to see that," she explained.
  FCCLA students have been doing art projects that promote recycling by reusing materials such as cans and other discarded items to help decorate the school and promote the concept of recycling, while simultaneously showing off the FCCLA program. "We have kids doing such great wonderful things and I would like to see them be recognized for that," said Ovenell-Carter.
  The November cycle of the ED Foundation grant is fast approaching and Ovenell-Carter plans to apply, to receive the necessary funds for the greenhouse. If you have any interest in helping with the Full Circle Food Experience head over to the C-Building and ask Ovenell-Carter what you can do to help propel the project forward.