Advanced Orchestra Students Step into the Spotlight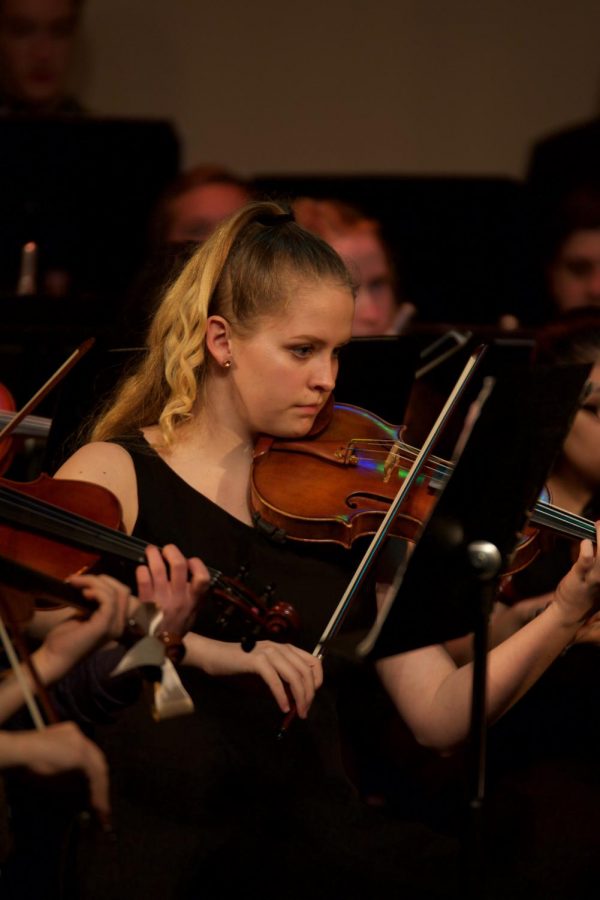 Charlotte Saric, Reporter
March 23, 2018
Sedro-Woolley High School is sending a new group to its annual music festival. Established during the 2016-2017 school year, the Sedro-Woolley High School Advanced Orchestra is an audition group for string players at our school. The group was formed in order to enter a new ensemble at the prestigious San Juan Music Educators Association (SJMEA) Festival taking place at the end of March.
   Director Poul Brask has chosen two new pieces for this year's festival–a Shostakovich waltz and an allegro by Mozart–with the help of his students.
   "My favorite piece is Allegro, because it's so fun and exciting to play," said Dakota Fox, a freshman at SWHS. Fox is the principal second violinist in the group. "It's the type of song that gives me an adrenaline rush."    
   Although many audition for the group, Brask can only accept up to 16 new members every school year. The audition process includes playing 2-3 melodic excerpts from in-class material, as well as a variety of difficult scales. Students decide to join for many different reasons, but they are all hoping to get the same thing out of the group:
    "I want to create beautiful music with the group," said William Taylor, a junior at SWHS, and the group's principal bassist. Taylor originally started his orchestra career as a cellist, but started to play the bass in his 8th grade year. This is Taylor's first year in Advanced Orchestra, and he has high hopes for how the group will advance his musical career.
   "I believe the confidence I get from calling myself a member of the group will help me grow as a musician," said Taylor.
   Advanced Orchestra practices tirelessly both during class and during Power Hour multiple times a week. Brask has also welcomed Fidalgo Youth Symphony director Sharyn Peterson to coach the group during their Power Hour Rehearsals.
   "Sharyn's unlike any other conductor I've ever had," said SWHS sophomore Zoe Slabodnik. Slabodnik is the concert mistress of Advanced Orchestra, and she is one of Peterson's violin students. Slabodnik is also in Fidalgo Youth Symphony, saying that "it is hard work to keep up with Peterson, but everyone manages to do it."  
  The group also acts as a huge confidence booster for its members. The music that is selected for the group usually contains solos that showcase each section of the orchestra.
   "Being in the group has made me feel like I've accomplished something," said Shaylee Utter, a senior at SWHS. Utter has been playing the viola for nine years, and this year marks her first year in Advanced Orchestra.
   Utter and her colleagues will be able to showcase their talent to the public at the SWHS orchestra concert, which will begin at 7:00 p.m. on Monday, 26 March 2018 at Sedro-Woolley High School.