2019 Woolley Idol Showcases Remarkable Student Talent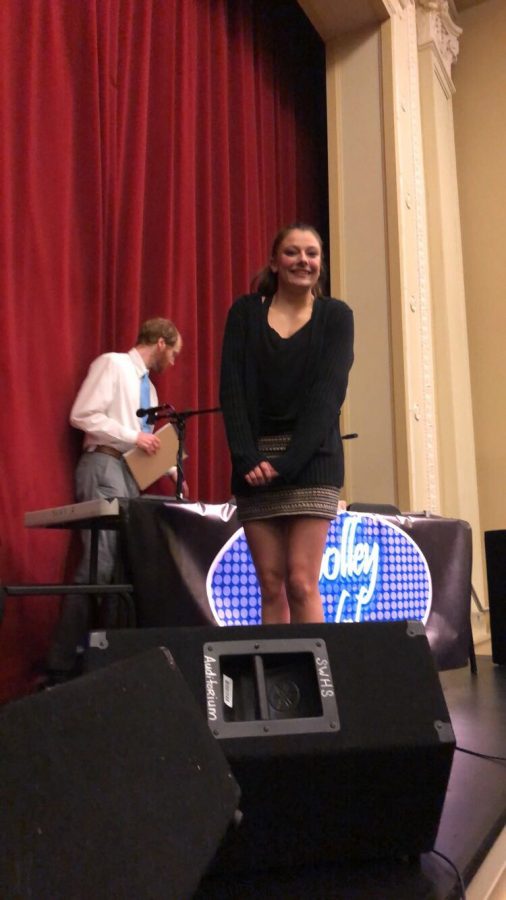 Taylor Deitz, Reporter
February 14, 2019
Woolley Idol once again set a bar or extreme talent as the best of the best Sedro-Woolley High School singers performed in front of their peers on Feb. 1. At the end of an evening of immense talent, senior Taylor Roedell took home the victory.
This year's contestants included: Lilly Rice, Isaak Sanders, Rachel Jackson, Jazmine Brigham, Emily Jennings, Shaely Spilker, Taylor Roedell, Austin Campbell and Hanna Jutte. Each contestant introduced the show, and themselves, together in an opening song.
The hosts of the show were seniors Cameron Moses and Ryan Pierce. They kept the audience entertained between the contenders with jokes and witty commentary. The judges, which consisted of Kathy Chace, Chris Jensen, and Brett Turner, provided contestants with constructive comments and praise.
The first student to perform was Lilly Rice. She stood in front of the crowd and told the student body about her dream to become a singer when she is older.
Next up was Isaak Sanders with the song "Whatsername" by Green Day. He added head bangs and dancing along to the song. "Nice, easy to listen to, smooth," said Judge Jensen.
Next up was Rachel Jackson with the song "Temporary Home" by Carrie Underwood, she had everyone at attention with her voice, some audience members even had a tear in their eye.
"I spent the whole time looking for the reply button, I wanted to hear you sing that on endlessly," said Pierce.
Jazmine Brigham was next to perform, with her rendition of 'All I Want" by Emma Bale. She had the audience clapping along with her and her dancing. When a judge was asked what he believed Turner replied, "Your tone fit really well with the song you chose."
Following Brigham was Emily Jennings with 'The Breakup Song" by Francesca Battistelli. When she was asked why she auditioned for Woolley Idol she said, "I wanted to share my love of music." Jennings received positive reactions from both the audience and the judges.
Next was Shaely Spilker with the song "I won't give up" by Jason Mraz.
Ultimate winner of the event, Taylor Roedell sang a song that seemed to hit home for many people: "Travelin Soldier" by Dixie Chicks.
Austin Campbell kept the audience laughing even when they were having problems with the music, but it was worth the wait when he started to sing his first song 'Gone, Gone,Gone" by Phillip Phillips. People began to clap along to him. Jensen sensed that Campbell was "very comfortable" with being on stage.
Last but never least Hanna Jutte performed "You Say" by Lauren Daigle. Jutte told the crowd that she had participated in the event to step out of her comfort zone. "I am struck, only word I have is supreme," said Chace.
With the first round over and done, five contenders were chosen by the audience to move to the second round: Rachel Jackson singing 'The Words" by Christina Perri, Emily Jennings singing "You Say" by Lauren Daigle, Taylor Roedell singing "Fallin" by Alicia Keys, Austin Campbell singing "Crazy Girl" by Eli Young Band. The last contender to make it to the second round was Hanna Jutte singing "Happier" by Ed Sheeran.
After everyone went, the crowd choose the final two that they wanted to win and those people were Taylor Roedell singing "When You're Gone" by The Cranberries and Hanna Jutte singing "Stay" by Rihanna.
It was ultimately up the panel of judges to decide the final winner of the annual event. After a night full of great performances, Taylor Roedell stood out to the judges the most.