Sedro-Woolley Students Stand Up and Walk Out
Students at SWHS have had #enough
Approximately 100 Sedro-Woolley High School students left their classrooms at 10 a.m. on March 14 and stood quietly in the rain for 17 minutes to honor the 17 victims of the Parkland, Florida high school shooting that took place last Valentine's day, and to raise awareness about gun violence in schools.
   The students were joined by several parents and members of the public. Kelley Blau, mother of four, showed up to show her support as well as participate.
   "I'm sickened that my children have been pushed to the point that they feel that they are not protected," said Blau. Many others felt the same way and carried signs sporting phrases like "School is for learning not lockdowns" and "No more silence end gun violence."
   One of the walkout organizers, SWHS junior Llyra Roe was front and center holding a sign that read "Grades up, Guns Down" and a orange t-shirt saying, "# ENOUGH."
  "I thought the walkout was a massive success" said Roe.  "Despite a few people with signs against us, I was really pleased with the turnout. The signs were powerful and everyone participating remained peaceful. The movement was so emotional I burst into tears."  
   As students gathered around the flagpole, the majority of the student body remained in class. Sophomore Emma Lootens felt that some participants strayed from the real purpose of the walkout. "People should have focused on the memorial and not on protesting."
  Jenna Burrow, sophomore, stayed in class during the walkout and suggested that others do the same. "Instead of walking out why not use that motivation to make a change by getting your work done instead of skipping class and holding up signs," said Burrow.
  A group of several students stood on the opposing side of the street, some of whom held signs telling the students to go back to class. One of the students voicing their stance against the protest was sophomore Kaleb Ferris. He explained that he felt that the walkout was about trying to make it harder to get and keep a license for guns.
   "I was against the walkout," said Ferris.  "They are not gonna take away our licenses or make it harder to get our licenses.  There are more motor vehicle accidents than there are with guns. This whole walkout was not about the 17 victims. They put 17 in there as 17 reasons why they should get stricter gun laws."
   One of the students opposed to the walkout threw a cup of strawberries on a student participant that is highly allergic to them. "When peaceful protests are met with violence, people's true colors come out. I'm just glad that I will be on the right side of history," said the victim.   
 Although the walkout was not a school sponsored event, members of the school district were there to show their support. "I just wanted to make sure that they [students] know that even at the school board level there is someone listening," said School Board Director, Eric Johnson.
  In light of recent events, such as the Parkland shooting that prompted the walkout, school districts around the nation are looking for ways to make sure that students are kept safe.   
   Sedro-Woolley High School is equipped with both a lock-out and a lock-down button that when pressed, informs the police that there is a problem.
   "That button is an automatic alert to our police and fire and they can be here in less than a minute; that's how fast our emergency response is," said Kerri Carlton, SWHS principal. Every classroom door has a lock-block, which allows teachers to secure the door without fumbling with a set of keys. Carlton calls these precautions "time saving measures."
   The hiring process is currently underway for a mental health counselor to be on staff full time at the highschool, to provide help to students.
An email from the Sedro-Woolley school district Superintendent Phil Brockman stated, "We should not punish students that decide to participate in the walkout." Brockman later describes the walkout as a "teachable moment about the political process and advocacy." Plans for future safety precautions are currently underway in our district. "What I would like to see is a balanced approach: gun safety and mental health, keeping schools safe and keeping kids happy," said  Brockman.
  Students can do their part to prevent tragedy from happening in Sedro-Woolley by being cautious of situations around them.
 "One: students should always report any time that they see something that doesn't look quite right on social media, report it immediately and then we can take over from there. The second thing that we as a school can do is always try and support our students that are feeling down or struggling," said Carlton.
   Llyra Roe spent the rest of the day feeling, "tremendously proud of Sedro-Woolley," SWHs was one of many high schools around the country that participated in the one month commemoration of the 17 victims of the massacre at Stoneman Douglas High School. "I hope this is the beginning of an inspiring journey of advocacy," said Roe.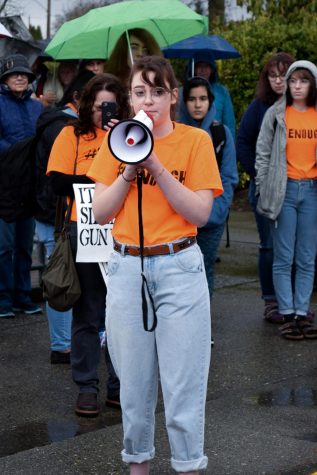 SWHS junior and walkout organizer Llyra Roe.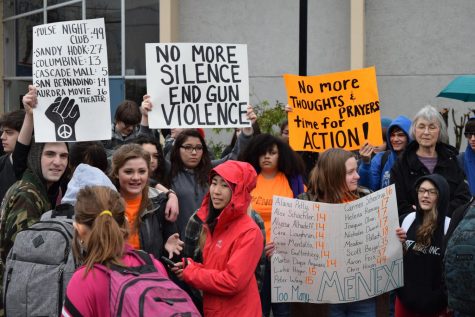 SWHS students stood in silence for 17 minutes, one minute for each victim of the Parkland, Florida shooting.