Football Season in Full Swing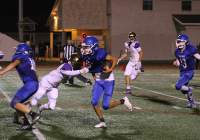 Lexie Johnson, Reporter
October 7, 2019
Friday, September 20, the Cubs Varsity Football team had their second win of the season against the Oak Harbor Wildcats.
The spirit section and the stands were packed with blue and white.
"The spirit section was a ton of fun everyone seemed so glad to be there, and I was too! It was a more fun way to watch the game," said Freshman Chloe Acton.
Freshman Rylee Kuipers added that the full stands were perfect for all kinds of fun audience shenanigans.
"It's great for cheering, dancing with the cheerleaders, and it's really fun to have," Kuipers said.
The game wasn't the only thing that was amazing according to first-time game goer AnnaLynn Johnson, who found that her favorite part was "Eating nachos because they were so cheesy."
The theme of the game was "out of this world". Many people's opinions on the theme varied. Johnson said that she liked the theme and its connection to the Area 51 Raid, which has become a prominent moment in pop culture in the last two months.
Other students were conflicted on their feelings for the theme."The theme was definitely not my favorite theme. I get that the Area 51 Raid was going on, but I mean what does that have to do with our school and our school's theme or color? But it was still fun to dress up," said Acton.
The Cubs ended the night with a score of 47-13.
The following Friday SWHS took their first loss to Lakewood high school at the opponent's homecoming game, ending the Cubs 3 win streak.
The next home game will be Friday Oct. 4. The Cubs will square off against Burlington-Edison High School for the homecoming game. The theme will be based off each grade levels HOCO theme.