Interview with Poet Jourdan Keith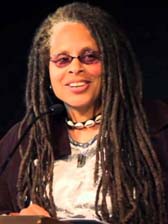 Interview By Demetria Haigh
Jourdan Keith, co-founder of the Urban Wilderness Project, nature enthusiast and Seattle Poet/writer teamed up with the Poetry in Schools program through the Skagit River Poetry Foundation. The project sends poets into schools around Skagit Valley. Keith came to Sedro-Woolley High School during the last week of April. Keith sat down with reporter Demetria Haigh and answered some questions about her work. The Skagit River Poetry Foundation is a non-profit organization that originated in 1998. Over 400,000 students have participated and gained skills in poetry alongside the experts mentoring them. The dates for this year's festival are May 19-22, 2016.
How would you describe yourself?
J: I would describe myself as a Philly born poet who really came into a different side of myself once I came to live out west. I lived in Wyoming and then out here where I really found myself in that way.
I read in one of your articles that you fell in love with Washington when it wasn't raining during the winter.  Did the rain come as a surprise?
J: No I was prepared. I knew it was supposed to rain, I just didn't know that um … well it's not the case anymore, but when I first moved here twenty years ago it was actually cold in July and I was really ready to leave. I was like, very angry about it actually.
Multiple times on Tuesday [ April 19] when I sat in on your class you said phrases like, "Bring your poems back into the room" or, "Bring your voices back into the room", what drew you to say that? What was the deeper meaning behind that phrase?
J: Well I think that people speak in poetry all the time and I often carry my journal because I hear people speaking and I hear the poetry in what they're saying. Like there'll be these phrases, but without slowing down to realize that they had created a space where they honored just what came from their first thoughts. It's like poetry has gone somewhere else and you don't realize that you carry it with you in every single moment if you just slow down enough to really hear your own thoughts and other people's thoughts.
What are some of your favorite pieces of writing that you have published? 
J: I think one of my favorite poems that I have published  – but they messed up a line break and left out a word, psychedelic -is a poem I wrote called "Which Stripe am I". I wrote it after being asked to write it and thinking about zebras. And I thought, wow how cruel to be a zebra, to be on the Serengeti on this plain and to be black and white, which is most easily prey, and then I found out actually, when they stick together it creates an optical illusion; they look like the heat waves that come off the Serengeti. It's amazing. So it makes their predators unable to distinguish one from the others so they don't attack. They're always looking for the weak one that is all alone. And I used that extended metaphor in the poem to talk about identity. I was asked to write it for a memorial for Audre Lorde. She was the poet laureate for New York state at one point before she passed away from breast cancer, and this was shortly after she passed away. She identified as a black lesbian warrior, women, poet, mother. And so I wrote that poem in honor of her for the video. That's one of my favorites and another one that's more recent, it's called "At Risk", it's an essay which I started writing and I really like it because it is kind of a way my experience of wandering outdoors and loving being aware that as a woman I am vulnerable to a lot of things, as a black person I'm vulnerable to a lot of things and so are salmon. Both things I think about all the time. I had fun writing it.
What is your preferable style of writing, why?
J: My favorite type of writing is creating myths and fables, that's really my favorite because I get to use all the tools that are part of poetry to make it happen, being really concise, and I get to use the elements of prose, just a narrative, painting a picture. And then I get to use my favorite element which is just fantasy, so you can have as much power in the story. It let's me use personification a lot, one of my favorite poetic devices.
As I've read about you online a little bit, I've found that you're connecting with different foundations, and different projects like how you've become involved in the Poetry through Schools Project and the Urban Wilderness Project, all the while being a poet. What's the best part of your job for you personally as it's so diverse?
J:  I have to say, my favorite part is the thing that I gave up once, and then that's how I realized how much it really was not the thing I wanted to live without, which is actually teaching poetry, teaching environmental education, working directly with young people, particularly high school people and college age students. I enjoy middle school students as well because they have the ability to create amazing fiction where anything can happen and they know stuff. That's my favorite part, and I tried to give it up once and then I was very sad. It was like I had empty nest syndrome of a different kind.
How did you first come involved in the Poetry through Schools Project through La Conner.
J: I sent in my application to be a performer at the festival and what I received was an invitation to teach. And I thought oh that's great, but I was applying to perform. Then I got another thing that said we're inviting you to teach and I said oh that's great, do I get to perform? And so I taught poetry in the schools and other programs.
What's your favorite type of poetry to read from other authors?
J: I think I don't have a favorite. I have a couple authors whose style I enjoy at different times. I really think there's poets who make me moan or cry when I hear their work. One of them is coming to the Skagit Valley Poetry Festival: Naomi Shihab Nye has a way of handling really heartbreaking moments with beautiful stories and I often think that I won't like the poem or I don't care and then at the end she blows me away. I love and think it's super important what people call witness poetry. I think it's really critical that poets pay attention to their responsibility as part of society and speak more than about their navel,  like you can gaze at your navel but you need to also realize that other people have navels and bring in a bigger picture. She's one of my favorite authors, certainly Audree Lorde who I named, and my mentor Sonja Sanchez  whose work is just stunning.
What inspired you or how did you come up with the idea to start the Urban Wilderness Project?
J: What inspired me was that I really thought it was important for people who otherwise wouldn't have the opportunity to go spend an extended amount of time camping in the wilderness to have that experience. You know I left Philadelphia and went to work in Yellowstone National Park, because I saw a picture of a mountain on a poster in the unemployment office and I was like, yeah that's what I need. My father had just passed away and I was right, it ended up being just what I needed. And I went from a profound melancholy to suddenly like, wow I feel really content, and I don't know what it is? And certainly loved the outdoors and had other experiences before that, but I felt like that was something that was really important to offer people. And I was very frustrated with organizations  that I worked with/ for rather who never succeeded in reaching low income or African American, Asian, Latino youth in really actually getting them outside even though that's what they were getting money for, that bothered me. So I was like,oh I'm gonna do it.
Was it challenging for you to get it started?
J: "Interesting for you to use the past tense. Well yes, it was , I don't really know how to put it. It was challenging in some ways. It was more challenging than when I look back on it than it was because I unfortunately had no idea what I was doing, I just really wanted to take a group of young people out in the wilderness I had been doing the work and I connected with people that were very excited that I was excited. People kept saying yes, and all of a sudden I had an organization with paperwork and volunteers and people donating time and money and it was just exhausting and amazing. It's much harder now that I think about it. It took a lot out of me so that's really my best answer. I cried when people were rushing to make donations. I didn't know that people cared that much, it was really kind of unnerving in that way"
Over your career how have you managed the different parts of your career, writing while simultaneously founding the Urban Wilderness Project?
J: "Well, I refuse to give up my writing. So wherever I am, whatever I have as an opportunity, I will write. But it also has until recently that the organization could only grow so much because I refuse to give up my art. There's only one of me, my clone got tired, so now there's only one of me and so I just kept writing. I mean I would die if I wasn't writing. When the organization hit the ten year mark, with a group of other woman co-founded another organization, it seemed like a good idea. Urban Wilderness Works to let the organization grow past my capacity and to make the legacy programs go forward. The wilderness trip and everything, So I juggle it by just always doing it, and now in the last few years I have just, people ask me "When do you find time to write?". Now it's just the other way around, it's when do I find time to do the other things? So I just changed the order. My auto reply says, I'm away, I'm writing basically, sorry I won't be getting back to you quickly. If it's urgent call me or send me text. And when people don't do that I'm like, well clearly it wasn't. So that's how I manage it.
In one of the interviews I read, you were asked why you created the Urban Wilderness Project and you replied, speaking about the cultural gap that keeps a lot of people of African and Latino descent out of the wilderness and you said that you wanted to address that gap. Is there a specific way that you have addressed that part of your project?
J: Yes…so primarily, what we built into it is helping a young person such as yourself to learn the skills, not only to be an outdoor leader but also how to be culturally responsive. By that I mean deliberately paying attention through storytelling as one of my major tools to make people aware of their own heritage and culture so there's not this feeling that you need to take someone else's. And teaching people to use the art as a tool for that reflection and training leaders that reflect the group. So finding and teaching other people to be an outdoor leader. Other African American men and woman, Asian women, other young white woman who are really wanting to engage and not ignore problems that people are faced with. By doing that, it changes what our trips are about, so we don't brush away the things that come up, we engage  people and very much focus on the schools where we are going to find the young people who otherwise wouldn't have the chance. Make sure we show pictures so people know like, no this is also for you, this is also for you. See that person, they look like you and they're smiling.
Over your career, going through different waves of your career, how has your perspective changed? This is an open ended question.
J: Well, people have reacted to my project by emulating it. And imitation is the highest form of flattery so in the Seattle area a lot of larger organizations have started, and I've been told, they're paying attention to what I'm doing and looking at that and then doing it.
Did that surprise you?
J: No, it's kind of the point. Non-profits are supposed to put themselves out of business. But the thing that really is not happening is that my organization, founded by me, I identify as African American, so there's a different flavor that comes with a woman founded organization, African American founded organization being in leadership. What I found is people still being quite resistant to women and people of African, Asian, Latino, native descent being in power. Not just being part of the program. So my perspective on that has changed to calling it out, because on the outside it may look like their programs are like mine and they have a lot more money to do stuff, but really underneath it isn't.
So you say your age is a secret because you work with kids and you want them to not tell you what they would tell their parents? You think they'll listen to you because they'll think you're younger? You don't tell anyone your age because of that?
J: No, lots of people know my age. I don't tell people because, I have two reasons, and I was amazed from one of the young woman in the class I just came from, she was talking about what it means to be defined as a woman, what a woman is allowed to do and what a woman is not allowed to do. Her poem ended with, beneath my skin there's a cosmos? I can't quote it, it just blew me away. But I think that many people don't understand that when you're talking to a woman more than a man, we are, and I'm sure they [referencing other woman in the room] can support me in this, we are boxed in, in a way by our age. For so long I have had women discriminate against me because they thought I had no values because I was too young. And then on the converse side… oh, so now you're old enough that I could respect you. And so I want you to see me for who I am and what I'm doing, not try and decide whether my opinion is now valuable or invalid.
Leave a Comment